BIOGRAPHY
Artist: JUHANI PALMU
Born: July 8, 1944
Turku, Finland
Nationality: Finland
Education: at Onni Oja as a
private student
Known for: Painting
Movement: Finnish landscape
Juhani Palmu was born in 1944 in Finland and grew up in Sweden. He received his first lessons in drawing and painting from his father, who was a painter and an art dealer who owned a cafe-art gallery in Turku in the late 1970s. Palmu worked as an advertising designer in the 1960s before becoming a painter.
Finnish landscape
Juhani Palmu studied with the Finnish professor Omni Oja, a well-known painter of the Finnish landscape. Palmu's first solo exhibition was in Helsinki in 1976 and a year later his work was exhibited in Stockholm. In 1984 Juhani Palmu came into contact with Galerie Bernheim-Jeune in Paris. It has existed for 200 years and was one of the first galleries to support the early Impressionists. Palmu calls his latest works 'signals of inner peace'.
earlier work
In his earlier work, Palmu always laid a 'surreal tension' between man and nature. Now his work radiates balance and tranquility, using the traditional Finnish buildings in the unmistakable Finnish landscape.
In 1998, Palmu purchased the Strindberg Art Salon in Helsinki, with its furniture and archives, located on Kapteeninkatu. There he presented, among other things, letters by Eero Nelimarkka.
INTERESTED IN Juhani Palmu ART?
LEAVE A COMMENT DOWN BELOW (INCL. ARTWORK TITLE) AND WE WILL GET BACK TO YOU AS SOON AS POSSIBLE.
NOTE: Comments will stay private and will not be displayed.
Mysterie
Oil on panel
Size: W 97 x H 82 cm
38,2 x 32,3 inch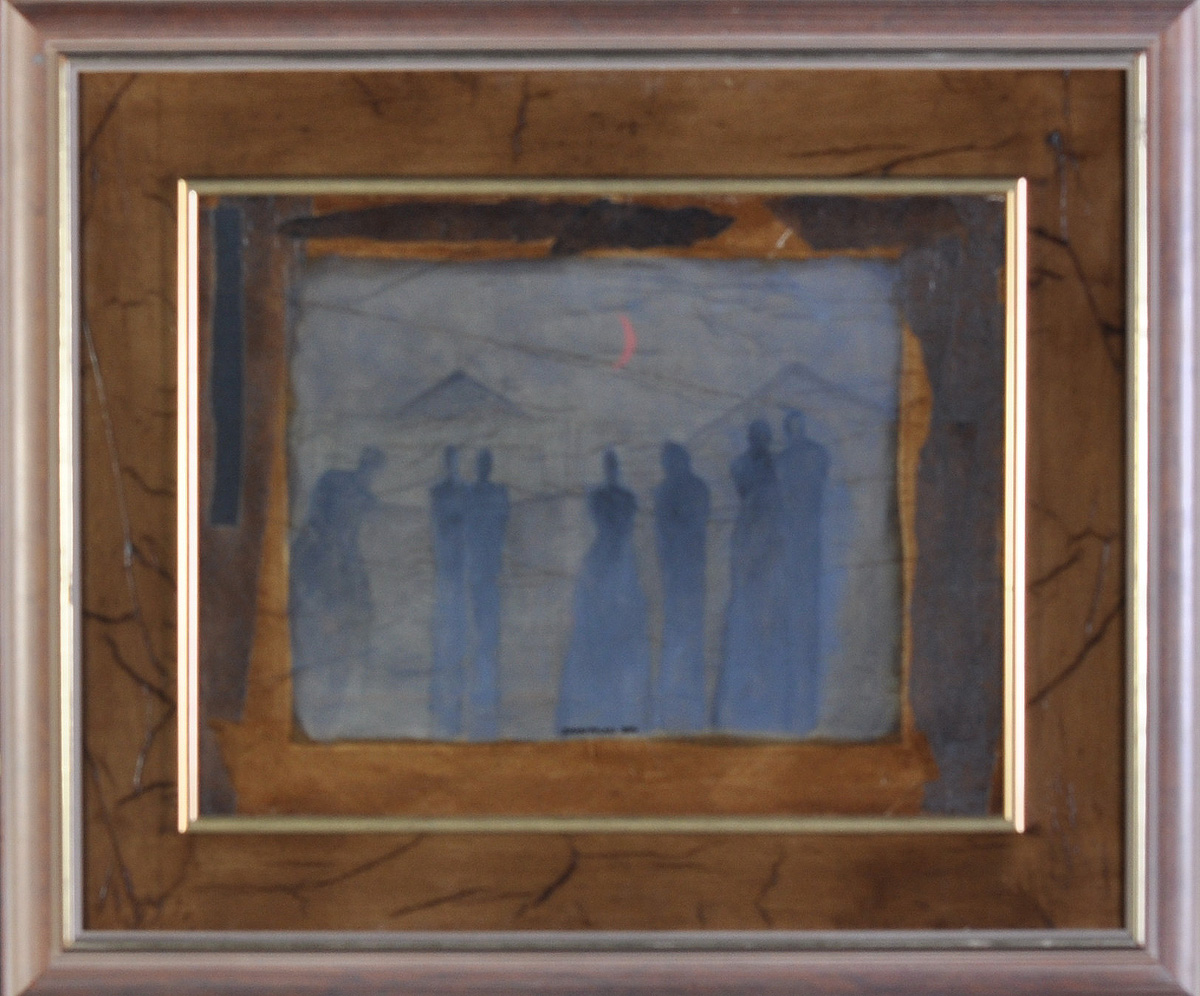 Living in Happiness
Oil on panel
Size: W 130 x H 110 cm
51,2 x 43,3 inch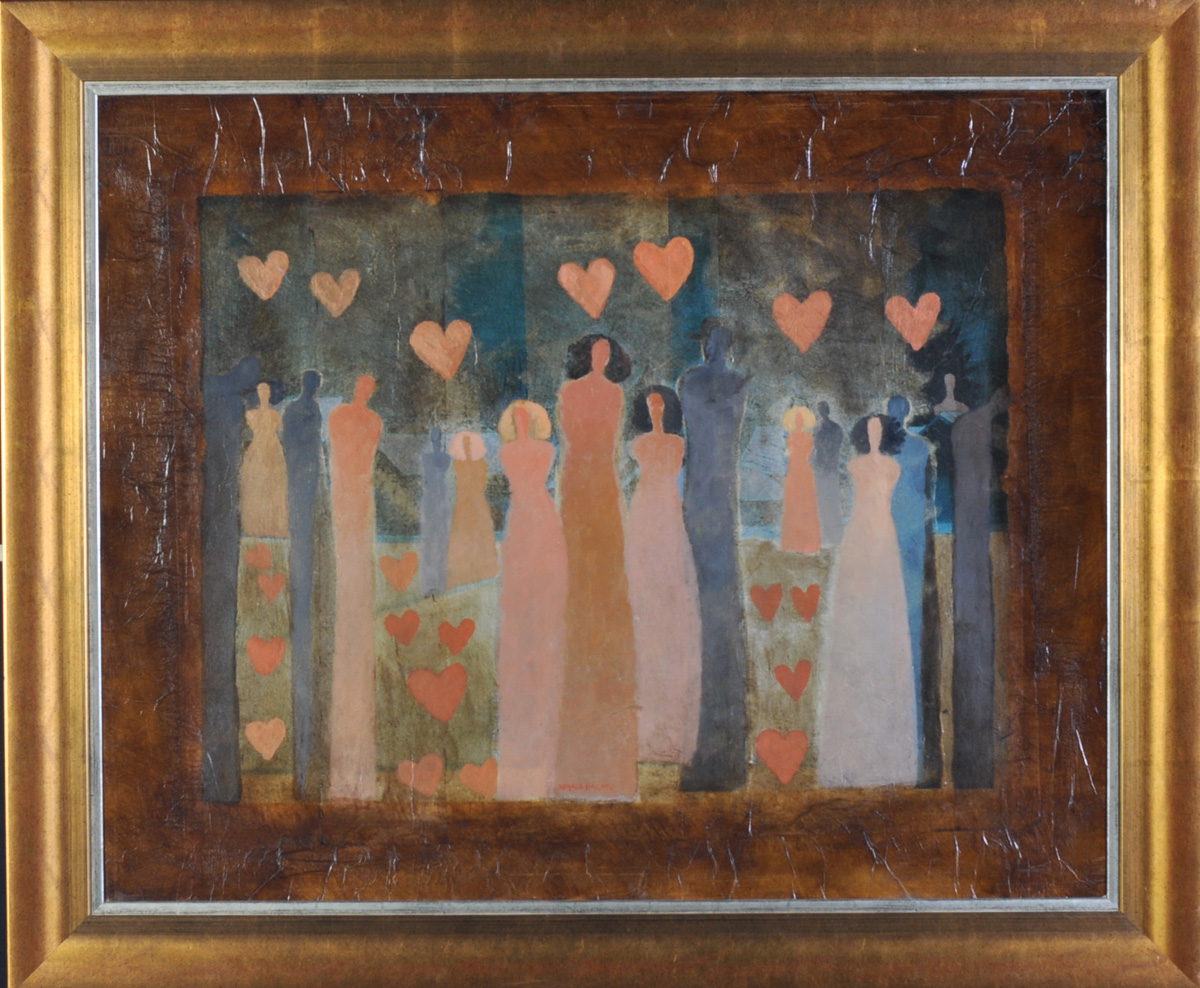 Excodus
Oil Mixed Media
Size: W 100 x H 120 cm
39,4 x 47,2 inch
Abraham
Oil on canvas
Size: W 143 x H 120 cm
56,3 x 47,2 inch
Ruth
Oil on canvas
Size: W 120 x H 120 cm
47,2 x 47,2 inch
Alaharma
Oil on canvas
Size: W 98 x H 80 cm
38,6 x 31,5 inch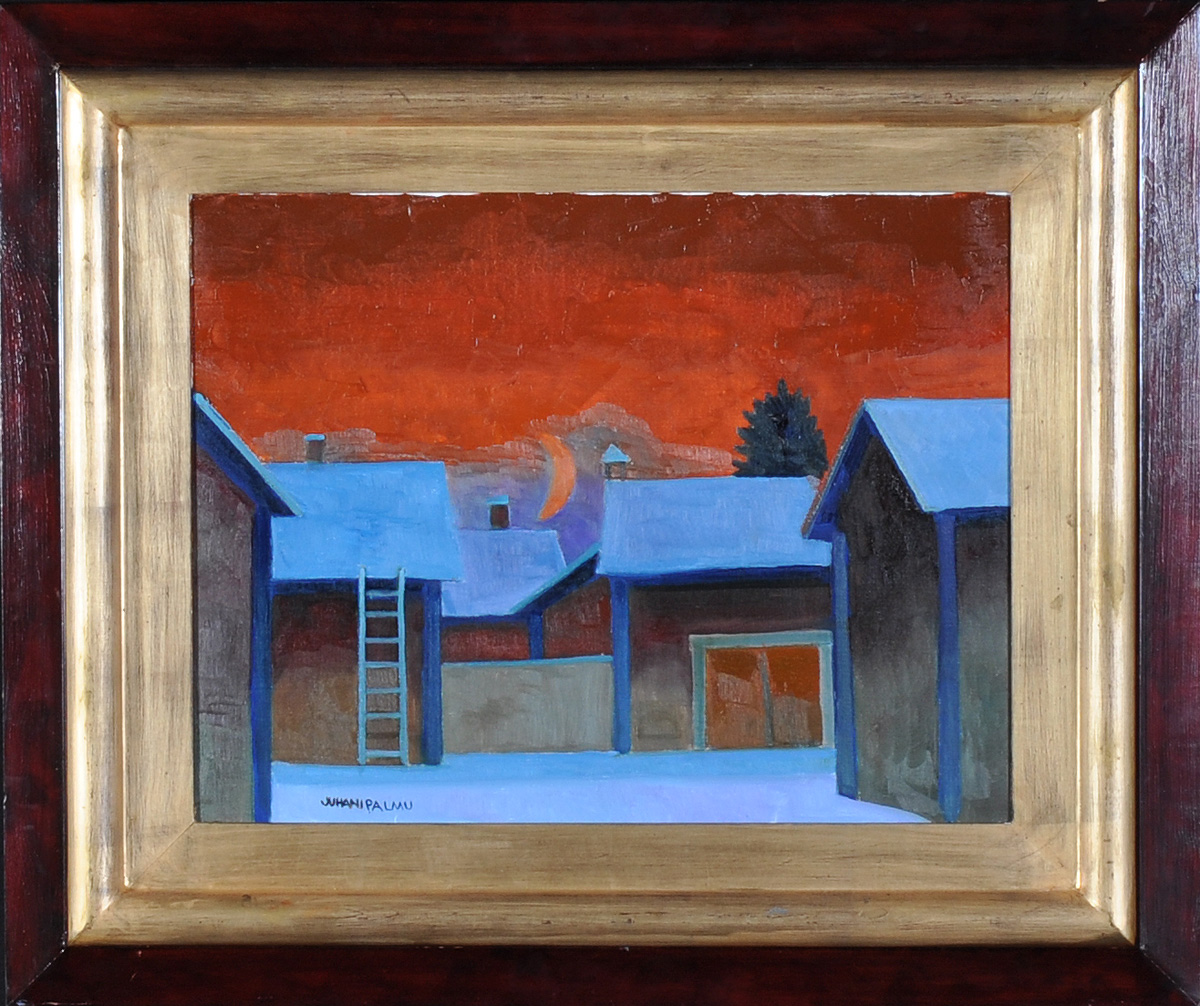 Tyrvaan church
Oil on wood & panel
Size: W 90 x H 130 cm
35,4 x 51,2 inch
Mozes
Oil on canvas
Size: W 90 x H 120 cm
35,4 x 47,2 inch
Naked pose
Terra graphic
Size: W 110 x H 140 cm
43,3 x 55,1 inch
Funeral Ceremony
Oil on canvas
Created: 1982
Size: W 50 x H 60 cm
19,7 x 23,6 inch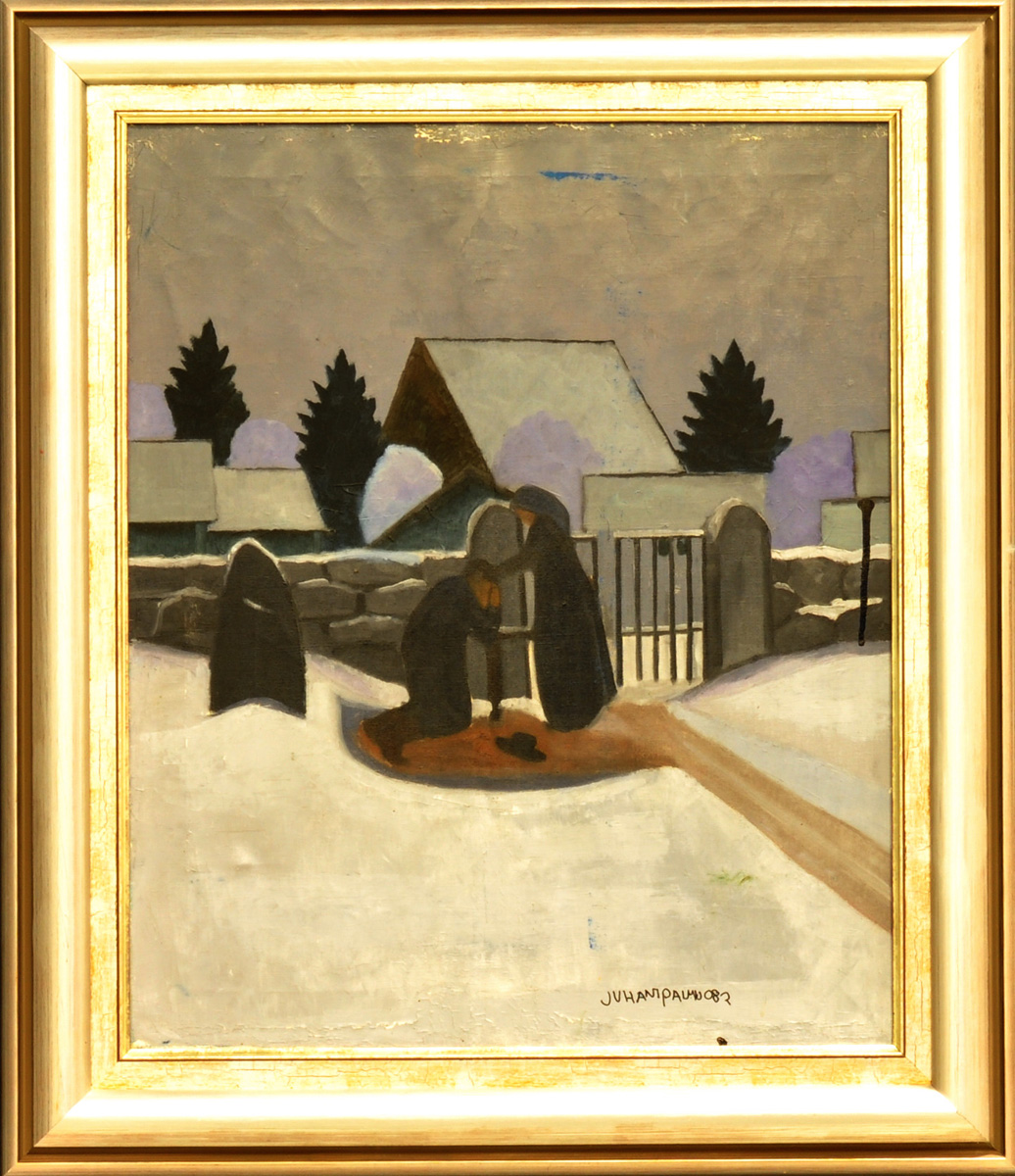 Yard
Oil on panel
Size: W 70 x H 60 cm
27,6 x 23,6 inch
August II
Terra graphic
Size: W 80 x H 65 cm
31,5 x 25,6 inch
Closing memory
Oil on panel
Size: W 70 x H 60 cm
27,6 x 23,6 inch
Old Bible
Oil & mixed media on panel
Size: W 60 x H 52 cm
23,6 x 20,5 inch
Pietist
Oil & mixed media on panel
Size: W 86 x H 64 cm
33,9 x 25,2 inch
Nude
Terra graphic
Size: W 115 x H 97 cm
45,3 x 38,2 inch
Communication
Oil on panel
Size: W 135 x H 98 cm
53,2 x 38,6 inch
Together
Oil on panel
Size: W 125 x H 105 cm
49,2 x 41,3 inch
Abraham & Sara
Oil on panel
Size: W 100 x H 120 cm
39,4 x 47,2 inch
Spiral
Terra graphic
Size: W 140 x H 110 cm
55,1 x 43,3 inch
Sport
Oil on canvas
Size: W 140 x H 120 cm
55,1 x 47,2 inch
Mirjam Joy
Oil on canvas
Size: W 150 x H 120 cm
59,1 x 47,2 inch
Mozes Ten Laws
Oil on canvas
Size: W 120 x H 150 cm
47,2 x 59,1 inch
Untitled 33
Terra graphic
Size: W 68 x H 72 cm
26,8 x 28,3 inch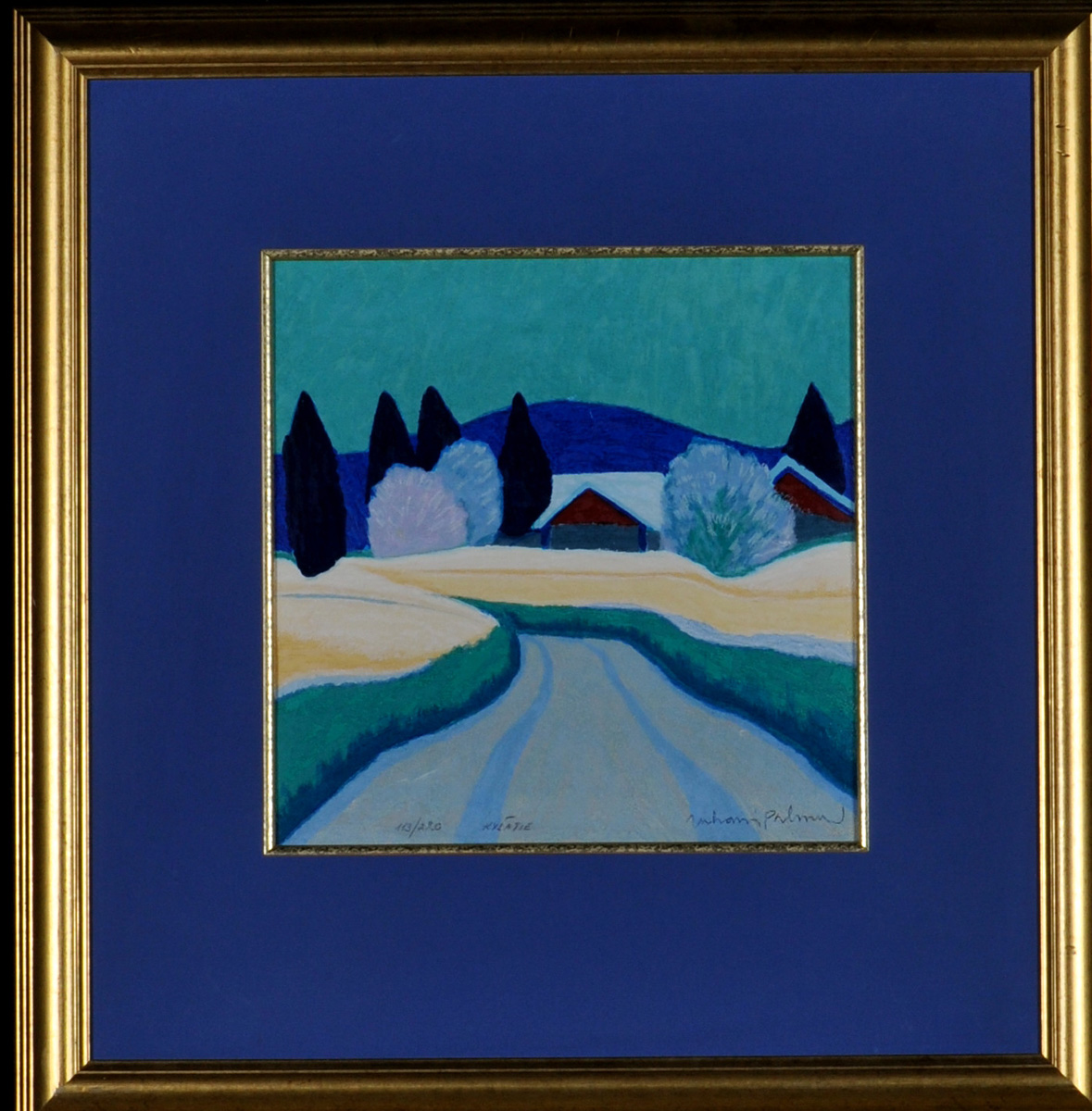 Untitled 34
Terra graphic
Size: W 58 x H 78 cm
22,8 x 30,7 inch
Untitled 32
Terra graphic
Size: W 72 x H 82 cm
28,3 x 32,3 inch
Book of life
Oil on panel
Size: W 95 x H 80 cm
37,4 x 31,5 inch
Haitians
Oil on canvas
Size: W 65 x H 75 cm
25,6 x 29,5 inch
Book of life II
Oil on panel
Size: W 100 x H 85 cm
39,4 x 33,5 inch
In love
Oil on canvas
Size: W 48 x H 60 cm
18,9 x 23,6 inch
Happiness
Oil on wood & panel
Size: W 60 x H 125 cm
23,6 x 49,2 inch
Family
Oil on canvas
Size: W 100 x H 120 cm
39,4 x 47,2 inch
Sun and peace
Terra graphic
Size: W 84 x H 75 cm
33 x 29,5 inch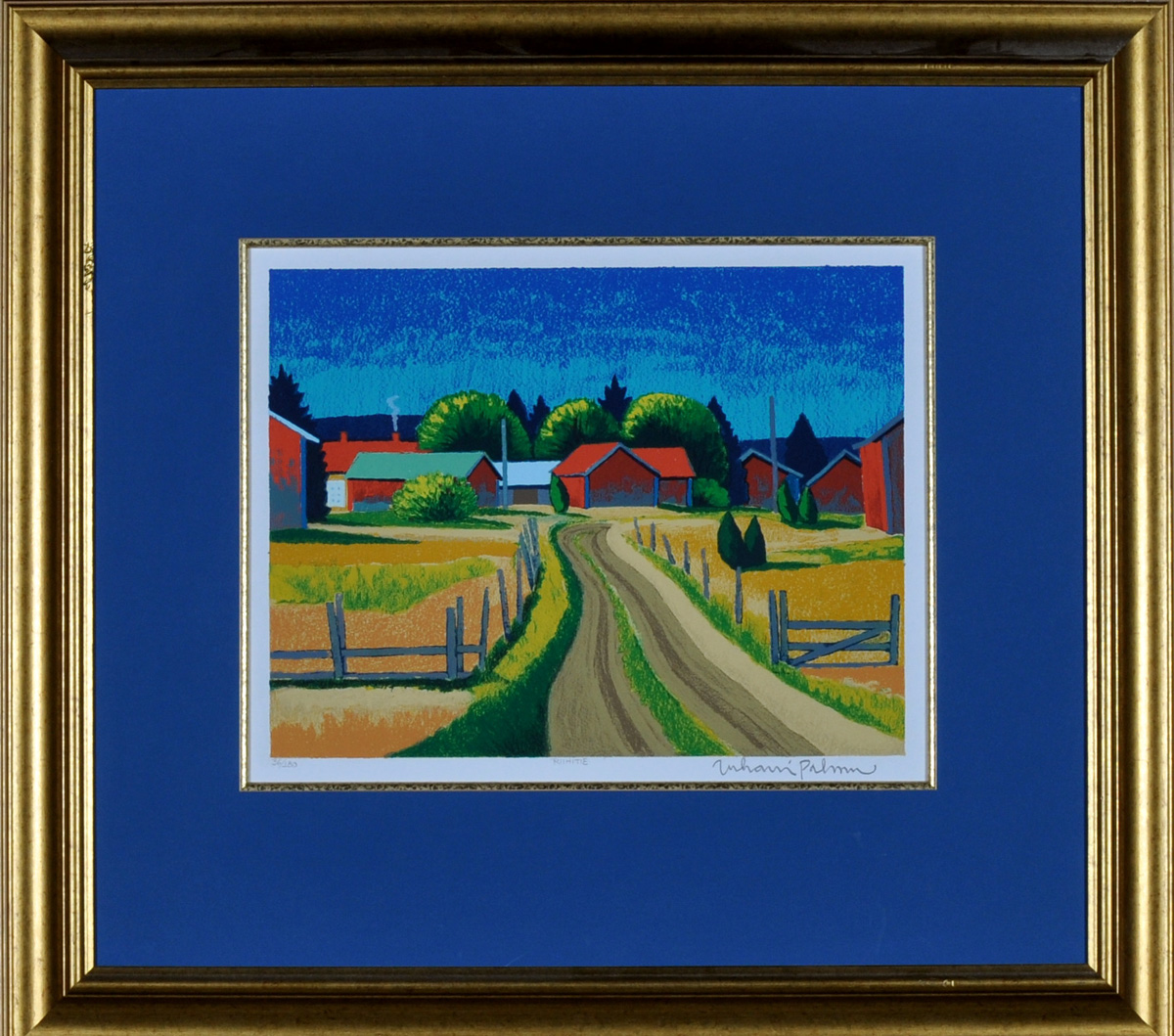 Communications II
Terra graphic
Size: W 95 x H 78 cm
37,4 x 30,7 inch
Book of life III
Oil and mixed media on panel
Size: W 90 x H 75 cm
35,4 x 29,5 inch
Haitians III
Oil on canvas
Size: W 75 x H 90 cm
29,5 x 35,4 inch
Together in love
Oil on wood & panel
Size: W 70 x H 125 cm
27,6 x 49,2 inch
I see what others can't see
Oil on canvas
Size: W 115 x H 95 cm
45,3 x 37,4 inch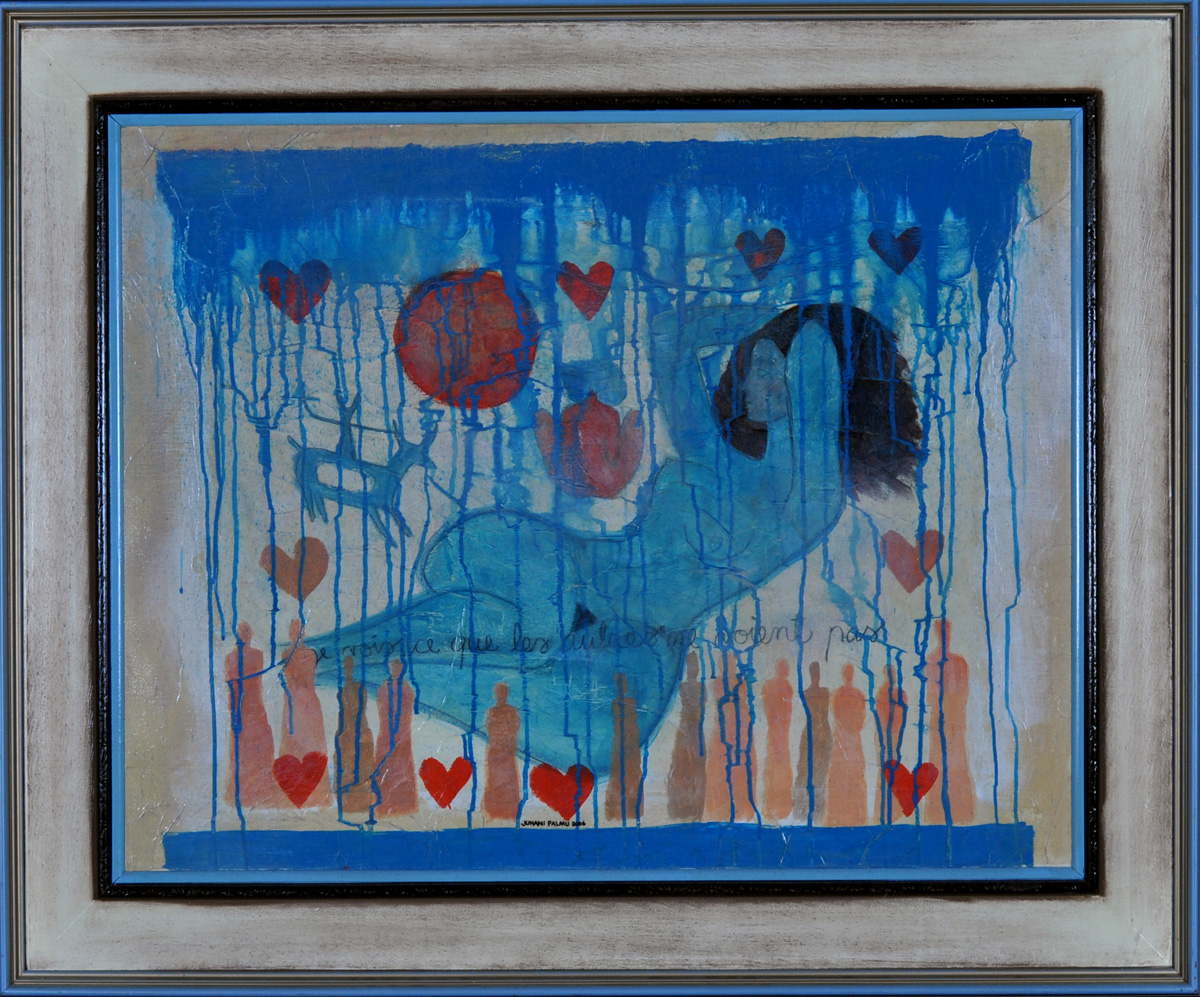 Communication I
Terra graphic
Size: W 105 x H 98 cm
41,3 x 38,6 inch
Sun and peace I
Terra graphic
Size: W 84 x H 76 cm
33,1 x 29,9 inch
Sun and peace II
Terra graphic
Size: W 92 x H 85 cm
36,2 x 33,5 inch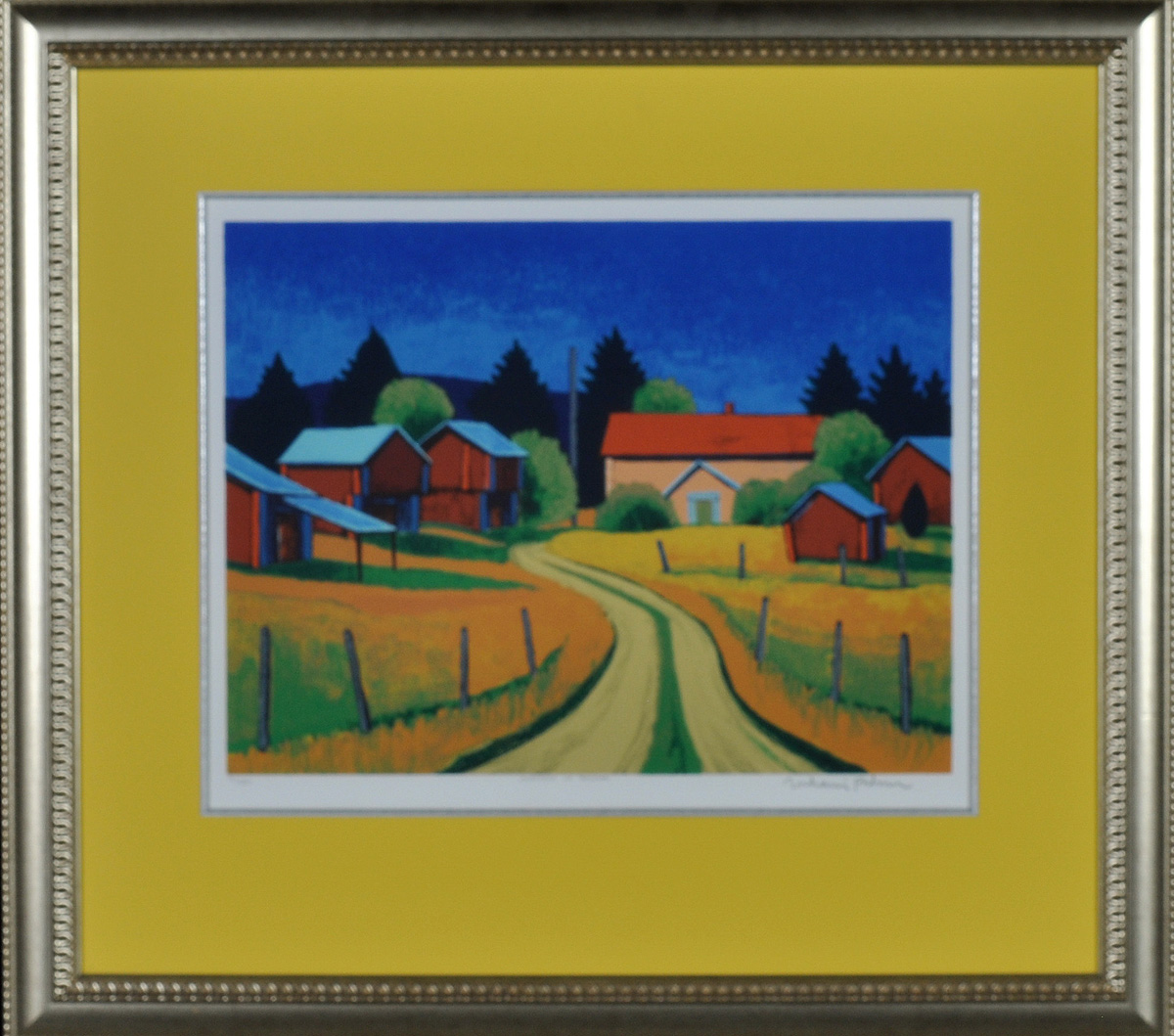 Field road
Terra graphic
Size: W 96 x H 85 cm
37,8 x 33,5 inch
Poissaolevuuden Kokemus
Terra graphic
Size: W 88 x H 84 cm
34,6 x 33 inch
Yard II
Terra graphic
Size: W 88 x H 84 cm
34,6 x 33 inch