McCoy was born in Pelkosenniemi, Finland, but grew up in Stockholm, Sweden. His mother was Finnish and Swedish, and McCoy has stated that his paternal grandfather was a Romani musician who taught him "gypsy and flamenco guitar" in his childhood, but in a 2012 interview his brother Ilkka Hulkko denied the Roma roots and described their "grandfather Eino" as "a good accordion player but not a Romani".
More then music
Besides music, Andy McCoy is an avid painter and he also makes a lot of his own and his wife's clothes, along with designing jewelry, scarfs and other accessories. McCoy held his first Art Exhibition McCoy Hits Canvas at The Cable Factory in Helsinki in 2010.
On 27 July 2009 a statue of McCoy (sculpted in wood by Matti Hulkko) was erected in the main square of Pelkosenniemi. All proceeds went to charity for newcomers in the music business.
McCoy's autobiography Sheriff McCoy: Outlaw Legend of Hanoi Rocks was published in English translation on 17 September 2009 by Bazillion Points Books.
McCoy was previously married to Anastasia Maisonneuve, the ex-girlfriend of his Hanoi Rocks bandmate Michael Monroe, and the former common-law wife of musician Stiv Bators. She and McCoy have a son together named Sebastian. McCoy has been married to Angela Nicoletti since 1991.
McCoy entered Finland's Celebrity Big Brother on 3 September 2013.
ANdy mccoy Legacy
When Acey Slade was asked "Who is the best guitarist in rock right now? " He replied: "Andy McCoy. Period. When Dave Grohl met Andy McCoy, he said 'I have met my first Rockstar.' That's a pretty good reason."
McCoy is a friend of Bam Margera (professional skater and Jackass star). McCoy made his appearance in Viva la Bam, Bam Margera Presents: Where the#$&% Is Santa? and appeared several times on radio Bam. Bam Margera has a tattoo of Andy McCoy on his right arm.
INTERESTED IN Andy McCoy ART?
LEAVE A COMMENT DOWN BELOW (INCL. ARTWORK TITLE) AND WE WILL GET BACK TO YOU AS SOON AS POSSIBLE.
NOTE: Comments will stay private and will not be displayed.
Glimmer twins
Acrylic on canvas
Size: W 80 x H 120 cm
Signed: Top right corner
Les historique guitarras
Acrylic on canvas
Size: W 175 x H 135 cm
Smoking
Acrylic on canvas
Size: W 100 x H 140 cm
Angels in Bliss
Acrylic on canvas
Size: W 100 x H 120 cm
She
Acrylic on canvas
Size: W 100 x H 120 cm
Butterfly festival
Acrylic on canvas
Size: W 120 x H 100 cm
Hitting Vegas
Acrylic on canvas
Size: W 120 x H 100 cm
Lady in Tuscany
Acrylic on canvas
Size: W 100 x H 140 cm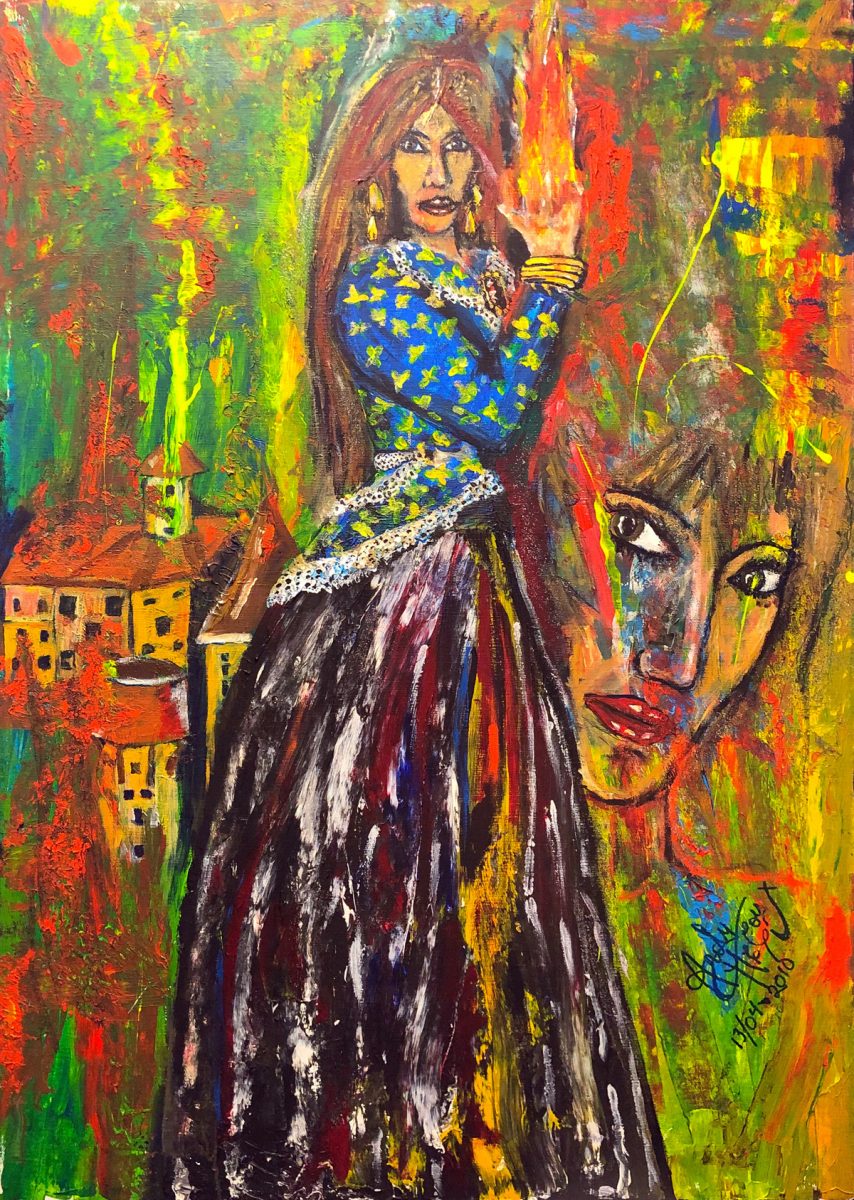 Industrial Angel 1
Acrylic on canvas
Size: W 150 x H 120 cm
Industrial Angel 2
Artprint on canvas
Size: W 120 x H 90 cm