Francisco Ruiz is an Argentinian Postwar & Contemporary artist who was born in 1945.
Francisco Ruiz studied at the Superior School of Fine Arts of the Nation Ernesto de la Cárcova in Buenos Aires, Argentina, where he specialized in mural painting. Throughout his career he has participated in art biennials and held individual exhibitions in Argentina, Cuba, Colombia, Mexico and the United States.
works of art
His work is part of the collections of the Contemporary Art Museums of Salta and Bogotá, the Museum of Latin American Art in Cracow, the Library of the Metropolitan Museum of New York and the Museum of the Revolution of Havana, Cuba, among other institutions plus.
mirrors
"Ruiz's mirrors do not reflect anything, they are not receivers of images, they are emitters of light, they are the place of a radiation." Gold, silver and pearls, "repeated the accounting documents of the conquest of America.
The office of restorer of colonial art, became familiar with the use of the gold and silver leaf. What his current works propose is a return to the sources, a kind of redemption of gold and silver that are again light Of mirrors on condition that they are read like the pre-Columbian ones. We are made to enter, he says, in a new dimension. I would say that they make us leave the three dimensions of representation and flood us with their warm light.
INTERESTED IN A Fransisco Ruiz ART?
LEAVE A COMMENT DOWN BELOW (INCL. ARTWORK TITLE) AND WE WILL GET BACK TO YOU AS SOON AS POSSIBLE.
NOTE: Comments will stay private and will not be displayed.
THE MIRRORS OF AMERICA
Gold/Silver/Oil on canvas
Created: 1995
Size: W 70 x H 70 cm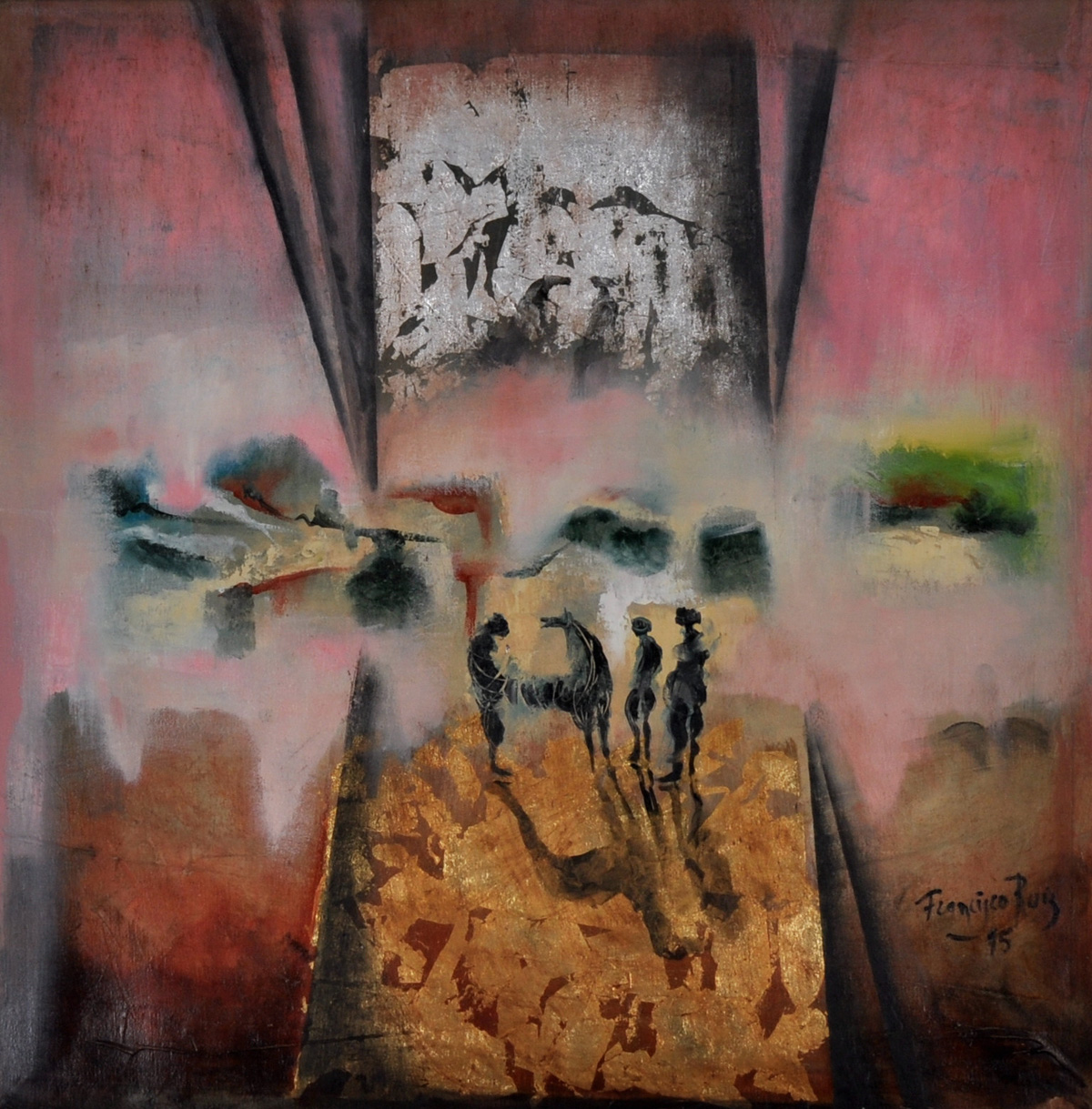 THE MIRRORS OF AMERICA
Title: Untitled, Triptych
Gold/Silver/Oil on canvas
Created: 1997
Size: 3 x W 80 x H 40 cm
Ventanas de America
THE MIRRORS OF AMERICA
(3 pcs.)
Gold/Silver/Oil on canvas
Created: 1995
Size: W 80 x H 55 cm + W 40 x H 45 cm + W 40 x H 45 cm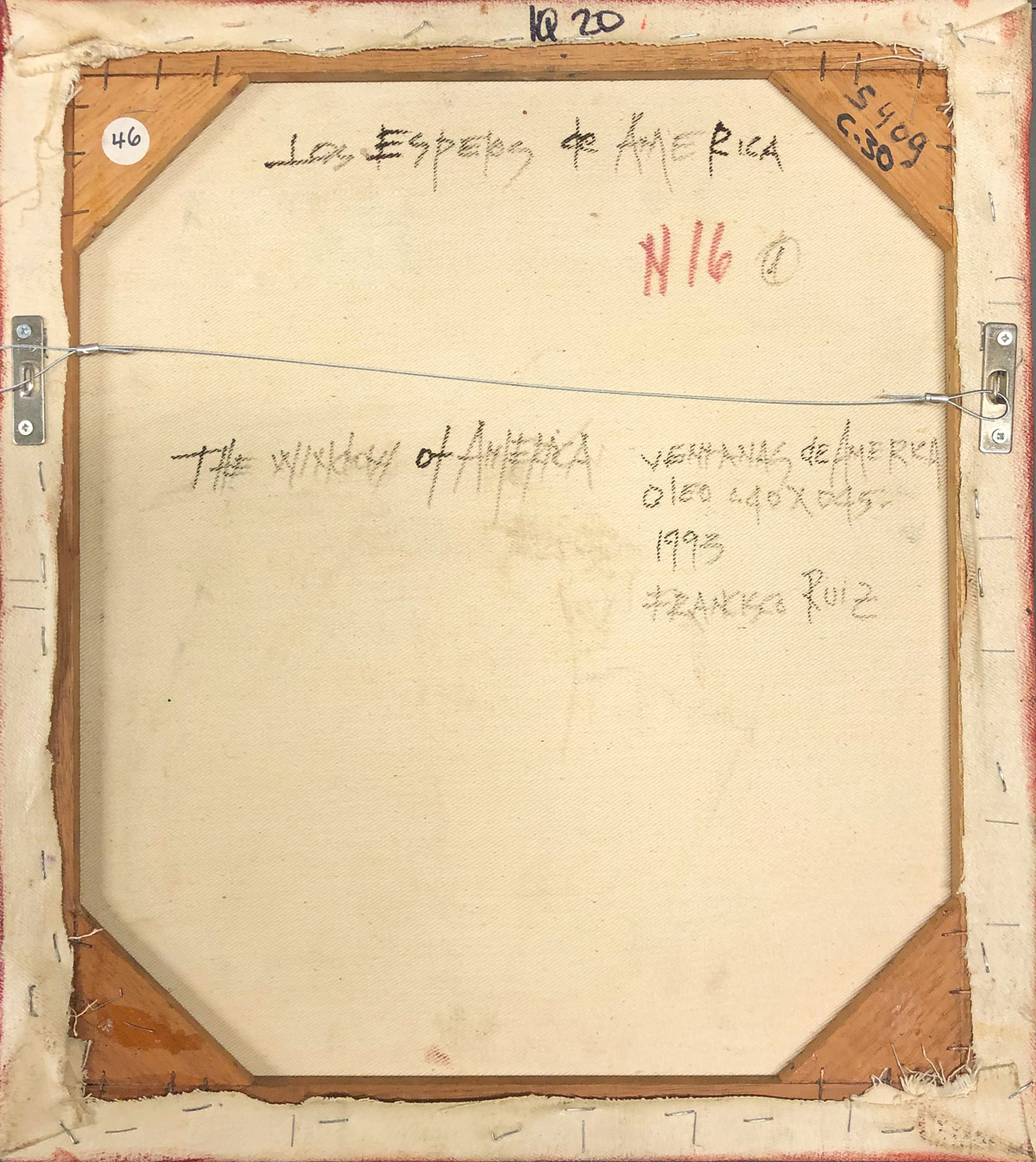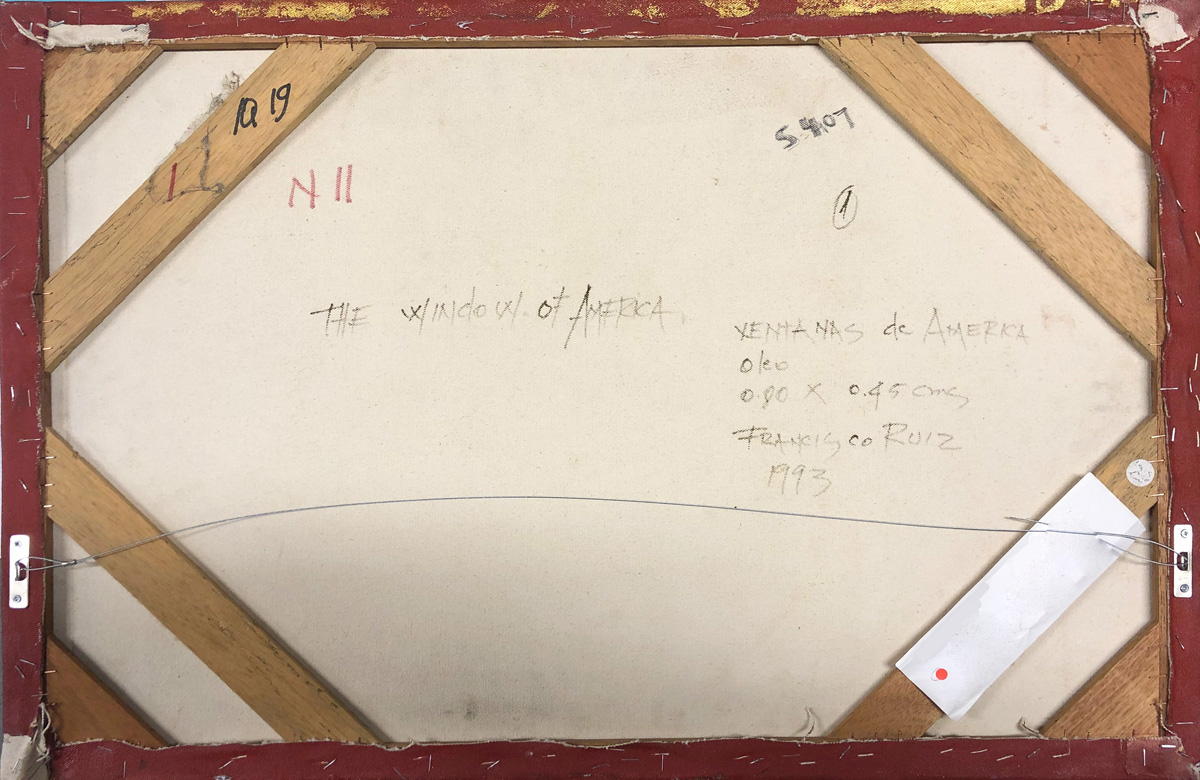 Christ for America
THE MIRRORS OF AMERICA
Gold/Oil on canvas
Created: 1984
Size: W 116 x H 152 cm
46 x 60 inch
The Magic Mirror
THE MIRRORS OF AMERICA
Gold/Silver/Oil on canvas
Created: 1995
Size: W 122 x H 122 cm
48 x 48 inch
The Magic Mirror
THE MIRRORS OF AMERICA
Gold/Silver/Oil on canvas
Created: 1995
Size: W 120 x H 120 cm
48 x 48 inch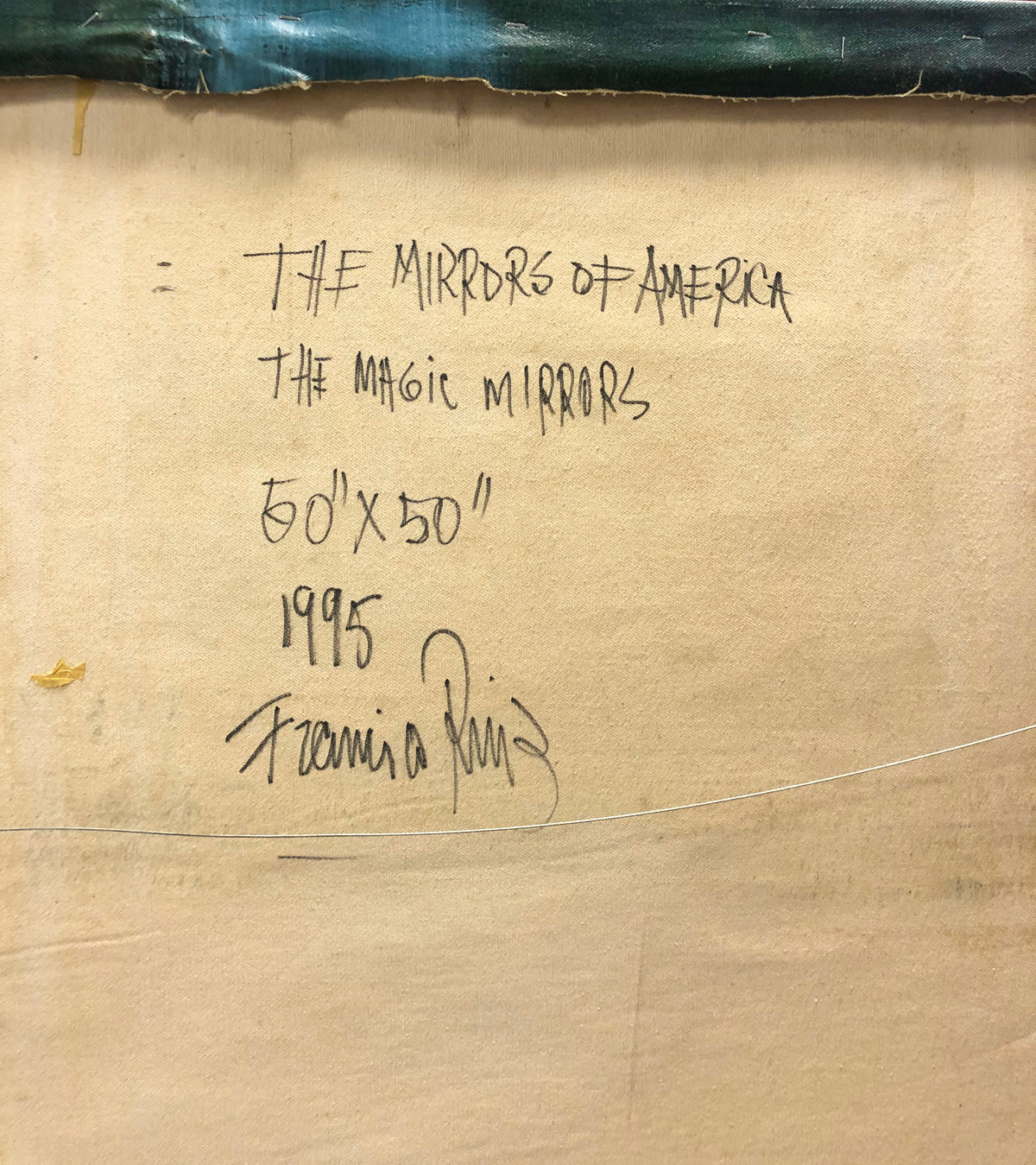 Memory
THE MIRRORS OF AMERICA
Gold/Silver/Oil on canvas
Created: 1995
Size: W 110 x H 90 cm
44 x 35 inch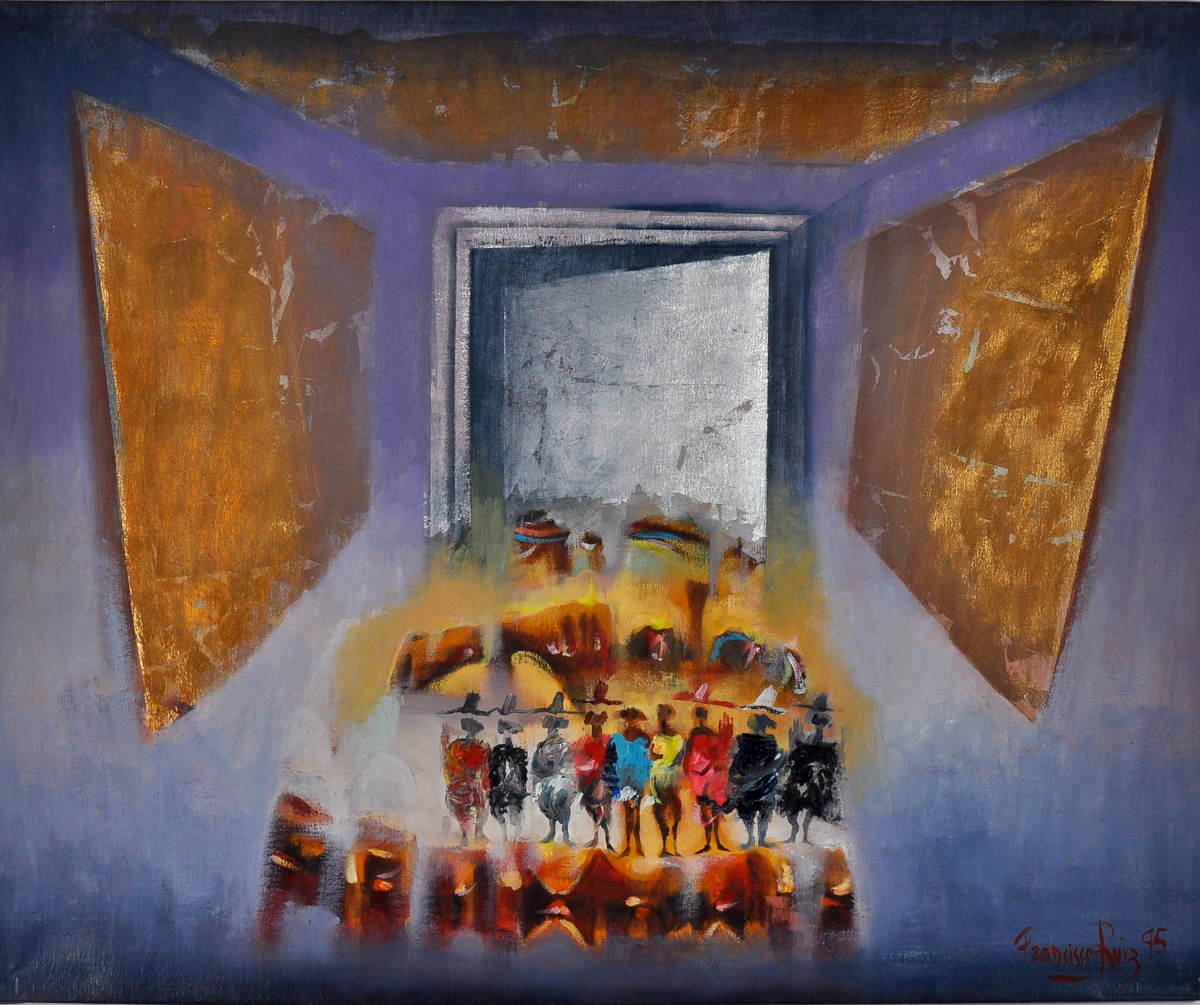 El Toro y su Reflejo
THE MIRRORS OF AMERICA
Gold/Silver/Oil on canvas
Created: 1987
Size: W 127 x H 86 cm
50 x 34 inch
The mirror's witness
THE MIRRORS OF AMERICA
(2 pcs)
Gold/Silver/Oil on canvas
Created: 1994
Size: W 115 x H 115 cm | W 65 x H 115 cm
Alquien atuicuesce la cuidad
THE MIRRORS OF AMERICA
Gold/Silver/Oil on canvas
Created: 1983
Size: W 95 x H 95 cm
Geometry from Machu Picho
THE MIRRORS OF AMERICA
Gold/Silver/Oil on canvas
Created: 1988
Size: W 100 x H 100 cm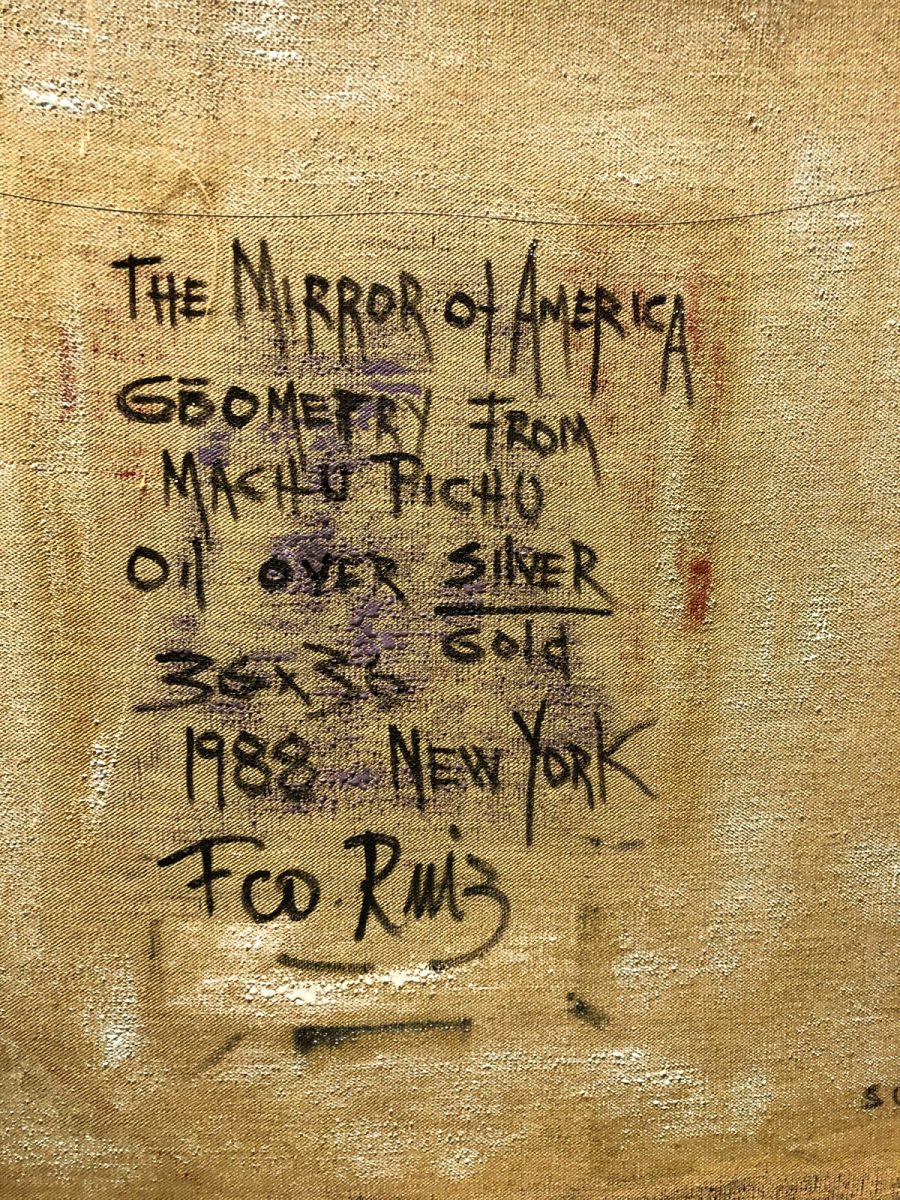 Poetic Seas
THE MIRRORS OF AMERICA
Gold/Silver/Oil on canvas
Created: 1989
Size: W 93 x H 120 cm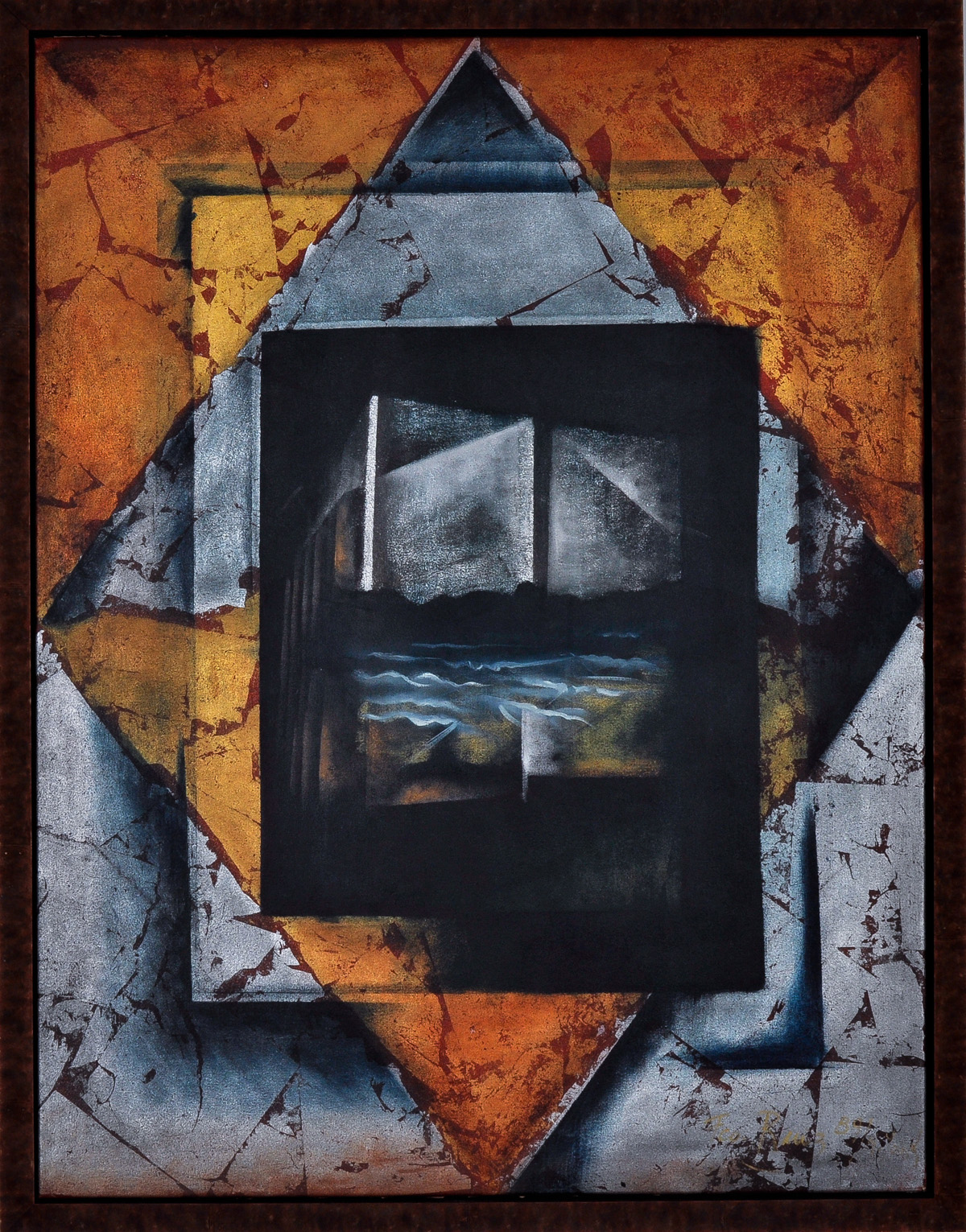 The Eye
THE MIRRORS OF AMERICA
Gold/Silver/Oil on canvas
Created: 1990
Size: W 130 x H 99 cm
THE MIRRORS OF AMERICA
Title: Mirrors of America
Oil on paper
Size: W 70 x H 112 cm
MIRRORS
THE MIRRORS OF AMERICA
Oil on paper
Size: W 70 x H 82 cm
Composition with gold
THE MIRRORS OF AMERICA
Oil on paper
Size: W 80 x H 98 cm